Educating U.S Hispanics on the health and wellness of cannabis
THE ENDOCANNABINOID SYSTEM
Endocannabinoids are the special molecules naturally produced in the human body that are closely related to proper functioning of the immune system and nervous system and that are mimicked by the cannabinoids found in the cannabis plant.  
Cannabinoids contained in cannabis, referred to as phytocannabinoids, simply imitate endocannabinoids.  Cannabinoids fit perfectly into specialized receptors found throughout the nervous and immune systems, serving to enhance, or improve upon, the body's own ability to maintain homeostasis (balance) and health.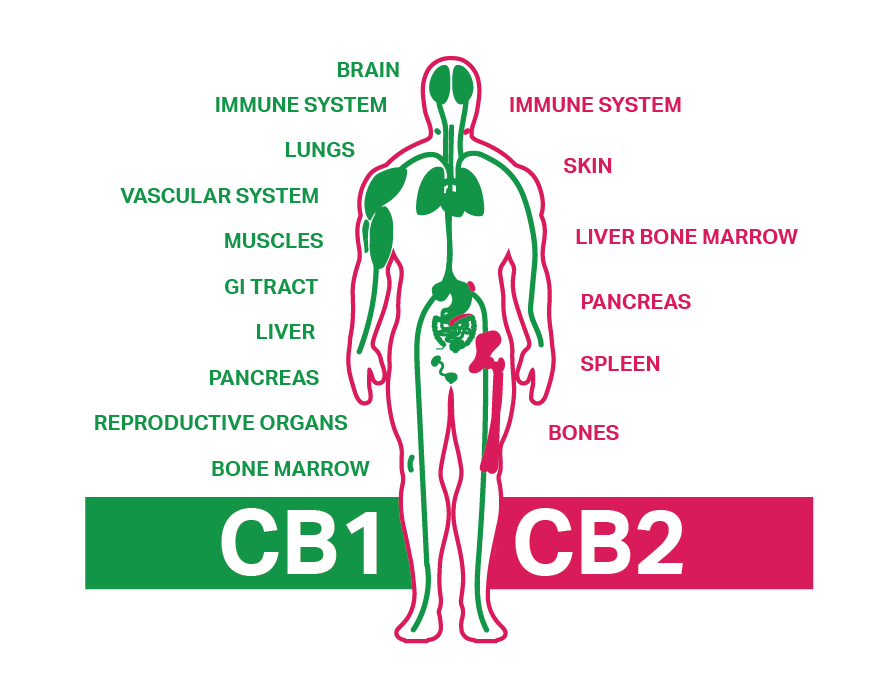 Research since the discovery of the endocannabinoid system has led to the identification of specialized receptors in the body. Knowledge of these receptors, called CB1 and CB2, has greatly enhanced the overall knowledge of how cannabinoids synergistically interact with other cannabinoids and endocannabinoids to produce sometimes profound medical effects. An understanding of these receptors also allows for the production of synthetic cannabinoids and specialized extracts that best take advantage of the function of these receptors.
CB1 receptors are located throughout the brain and central nervous system, as well as the kidneys, liver, lungs, digestive tract, and even the eyes. Revealingly, these receptors outnumber those for opiates by a wide margin (possibly as high as 10 to 1). The placement of CB1 receptors is also why overdoses on cannabis are impossible – because these receptors are not present in the basal regions of the brain that are responsible for vital functions, such as heart and respiratory function, overdoses due solely to cannabis use simply do not occur.
CB2 receptors are primarily found in the peripheral organs, in particular tissues associated with the immune system, including the tonsils, thymus, spleen, and bone marrow.
What is the importance of the Endocannabinoid System (ECS)?
Regulates a wide variety of biological processes
Appetite

Pain

Pleasure

Immune system

Mood

Memory

Receptors located throughout the body, which explains why cannabis results in a wide range of relief